It's
Friday
Thursday and that means it's Things I love Thursday! Head on over to Melissa's
blog
and link up.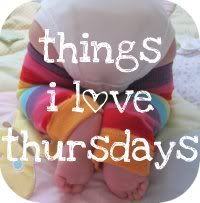 I'm loving
Pinterest.
Ah, who knew someone could be addicted to something so..so wonderful. I don't know what took me so long to pin. LOVE it.
I'm loving my 3 day weekend coming up. Yay for no work on Friday. I really just needed a day off of work to de-stress.
I'm completely loving
this
recipe. Frozen Reese's Peanut Butter Pie, um yes please!
I'm loving
this necklace
, it's something I say to Justin as well as Laila. Not to mention, it's just too cute to pass up.
This
necklace/dog tags
from Heart & Stone Jewlery would be perfect for Justin for a possible Father's Day gift. I love that I could put in Laila's date of birth as well as her measurements when born. It's also a significant piece because Justin was in the Navy.
This
camera strap
has become a huge love of mine and I'm hoping to get it soon. I have a serious crush on owls.
I love watching Laila reach new milestones. Did I mention she can sit up now, she started doing that a couple weeks ago. It's fantastic!
I love plants and flowers. And I even bought a little adorable plant for my cubicle. I'm tempted to head on over to Steins and pink up some large plants for our house tonight. Lets hope they don't die on me, though!
I recently went to a Lia Sophia Party over the weekend and I have to admit, I love their jewlery. My wish list is way too long. I've decided to throw my own party as well.
I love love love candles and wall plug-ins and pretty much just anything that smells good. Our whole house smells like Bath & Body Works Eucalyptus Spearmint.
I love when I hold Laila and she decides to bury her face in my armpit. It's just too adorable. Hopefully, I don't have stinky pits, ahaha.
I've come to realize how much I do love my HTC Aria. Even though the touch screen completely took a crap over the weekend. But now I'm left using a older version phone and it just makes me realize how much I miss and love my old phone. Stupid technolgy, why must you be sooo addicting!?
Most importantly, I love life.